Denver Online HS 4-H Sheep Project Scholarship Program
Posted August 4, 2014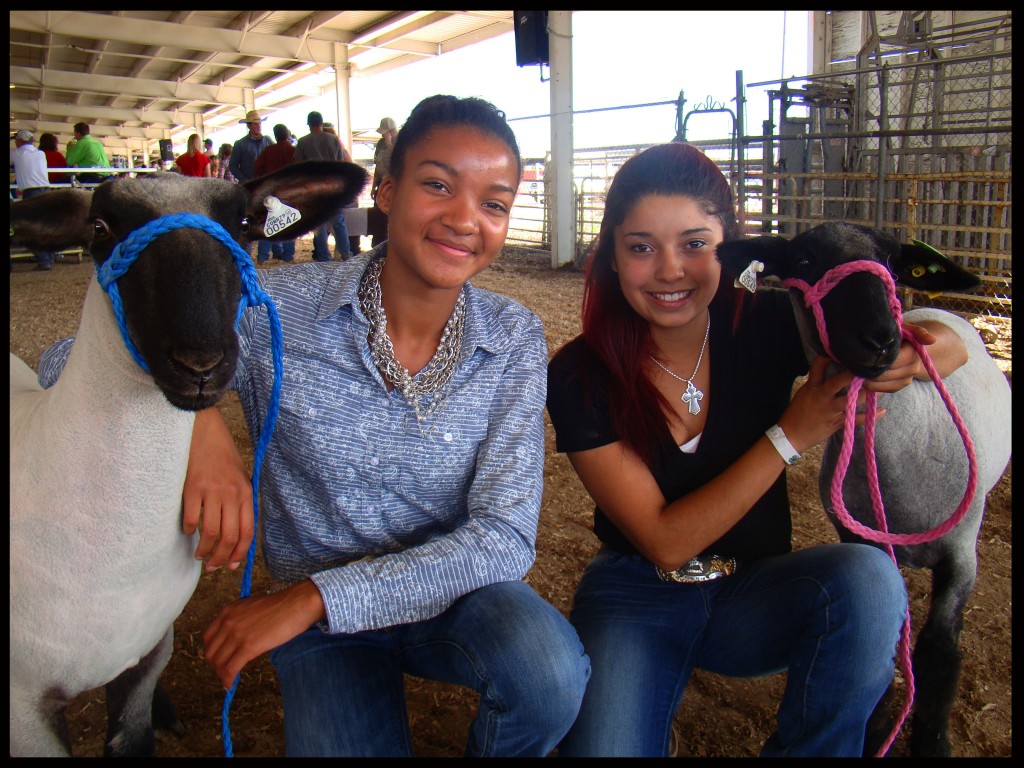 by Monique Collins on August 4, 2014
Zaria Schaffer, a sophomore at Denver Online High School, poses with her lamb Leroy.
The sight of two high school students in worn-in blue jeans, huge belt buckles and dusty boots, posing for photos alongside the lambs they've raised, isn't unusual at the Adams County Fair.
But it's not how they usually dress. Destiny Gonzalez and Zaria Schaffer are city kids, and they were wearing borrowed boots and belt buckles.
The two are rising juniors and seniors at Denver Online High School, and the four months they've spent raising their lambs, Bonnie and Leroy, are part of an effort to give students an unusual opportunity not typically offered at traditional schools, as well as to build bonds between students and staff.
"You've got to look the part," said Kaci Sintek, the school's marketing and communications specialist. Sintek, who raised livestock and did shows herself, loaned the girls her boots and belt buckles. She helped the girls raise and train the two lambs as part of the school's 4-H Lamb Project.
"We didn't know what it would be like," Sintek said. "We learned together."
Finding ways for students to get face time with other kids and teachers is a major concern in online education. Denver Online High School confronts that issue head-on by offering independent studies like the one Gonzalez and Schaffer did through a partnership with the Urban Farm at Stapleton.
Sintek said the school's principal, Mike Clem, encourages students and staff to work their passions into learning and teaching. A grant Sintek applied for covered all costs – including feeding, watering and housing Bonnie and Leroy.
Gonzalez is not new to farm life. Her uncle owned a ranch where she helped him with chickens and horses. None of that, however, prepared her for the task of building the lambs' pen and training the newborns.
"Training was the hardest," Gonzalez said as she petted Bonnie. "At first all they did was kick us and run away."
The girls meticulously recorded the animals' eating habits and weight, as well as trained them to walk in showings. They had two presentations in showmanship – where Schaffer and Gonzalez showed off their handling of the lambs. Schaffer showed off Leroy's skillful bracing, a technique used to show off their muscles.
Bonnie, and Leroy started at just 65lbs and 78lbs. By the time they were auctioned off at the fair, they weighed 105lbs and 122lbs and sold for a combined $1,500, which will be split between the girls to pay for college.
After a summer full of farm work and training, the girls said they would do it all over again. Sintek said she hopes the program can expand to include more kids next year.
"It was rewarding to watch the girls," Sintek said. "Work ethic and self-confidence grew immensely in these students."