9 News Story: Teen's Disability Doesn't Stop Him from Achieving Dreams
Posted May 8, 2013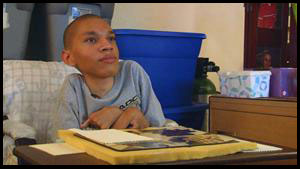 Story by 9 News, photo credit: 9 News
DENVER – For a large portion of his young life, Nathan Williams was told he wouldn't be able to achieve his dreams, but the 18-year-old with muscular dystrophy has proved many people wrong.
Like any freshman, Williams has a lot to do before college next month. But Nathan Williams is not just any freshman.
Nathan was 6 years old when he was diagnosed with muscular dystrophy, a degenerative disease. As a child, Williams used to be able to walk; now he's in a wheelchair.
Williams said it was challenging to attend high school with his disability. He eventually chose Denver Online High School to finish his classes.
He graduated with honors and will be the first in his family to go to a four-year school. He will attend the University of Colorado-Boulder this year.
Williams said his teachers and the principal made it possible.
"There are some naysayers regarding disability, but I ignore them and continue on," Williams said. "I know I can accomplish it. Look at FDR for example. I think he had polio and still was able to take care of the whole U.S. That's an astonishing feat. That really shows what people with disabilities can accomplish."
Williams wants his first degree to be in engineering, his second in business. He says every man with his own company needs to know how to run it.
"I know it will be a hard start because most companies start small, but then look how large they've gotten, look at Sprint, AT&T. Look how global they've gotten," Williams said.
He believes success is within reach.
"No dream is too big to achieve," he said.
Scholarships and grants are paying for some of Nathan Williams' school-related expenses. But he does still need some help. If you would like to contribute, go to: http://www.youcaring.com/medical-fundraiser/nathan-s-education-fund/68260
(KUSA-TV 2013 Multimedia Holdings Corporation)