About Us
Denver Online is an innovative online middle school and high school serving 6th-12th grade students in Denver Public Schools.  The school was established in 2003, originally serving only high school students. In 2021, the school expanded to include both middle school and high school options.  Denver Online is designated as a Pathways school and is home to roughly 650 students with a common need for a flexible learning environment.
Semester System and School Calendar
Denver Online runs on a semester system. First semester for the 23-24 school year starts August 21st and Second semester begins January 3rd. You can also find our school calendar here for all of the most up-to-date information on school events.
School Motto
Our motto is, "DO MORE," because we believe that online education allows the time and location flexibility for students to pursue more in their academics, communities, and lives. Denver Online best serves motivated students who desire a personalized education plan that enables them to break outside the walls of a traditional classroom and DO MORE.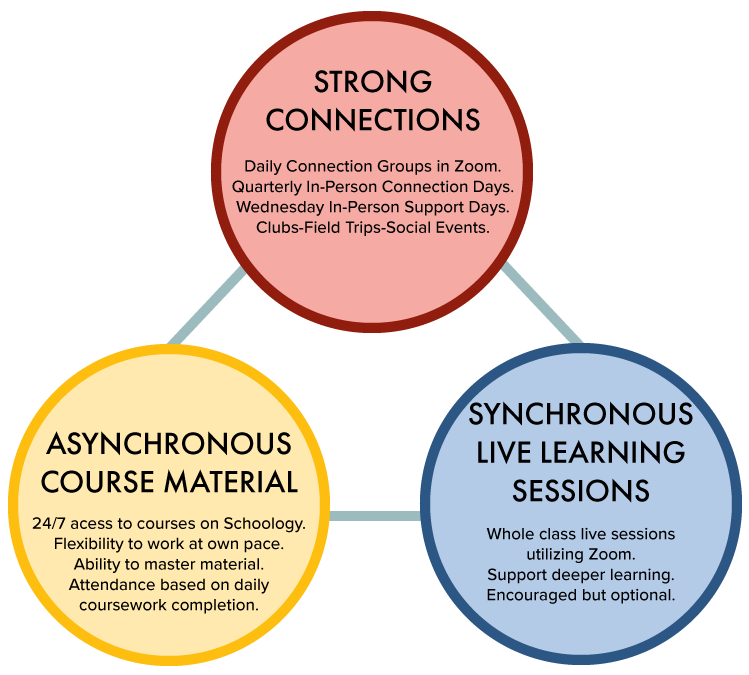 School Model
We have intentionally designed a learning environment that focuses on three main areas: strong connections, asynchronous course material, and synchronous live learning sessions.
Strong Connections
We know that the connections we make with our students is the first most important thing that we will ever do. Our students deserve to be known, seen, and heard. To build trusting and supportive relationships, students meet daily with their Mentor Teachers in Zoom. Students are able to consistently grow their connections with their Mentor Teacher and other peers in these small groups. For extra support, Denver Online offers Wednesday (9am-3pm) drop-in days where our entire faculty is at the school building ready to help students. Teachers also have office hours at the school building throughout the week that students are encouraged to attend for extra in-person support. Denver Online also has an extreme focus on community building. There is a plethora of face-to-face and virtual opportunities for students to connect with each other and their communities, including clubs, field trips, volunteer opportunities, and other social events.
Asynchronous Course Material
Our courses utilize Schoology, an online learning management system.  Courses are built by our teachers and modified to meet student needs. The courses encompass what students would experience in a brick-and-mortar school, including writing essays, reading novels, engaging in discussion, completing science labs, and more. Schoology holds all primary course material, with students able to access content 24/7 and from anywhere internet is available.  Students have the flexibility to complete school work during the school day, on the evenings, and during weekends from anywhere they choose. Students also always have the opportunity to revise their work in the pursuit of mastery. Attendance is based on daily coursework completion.
Synchronous Live Learning Sessions
Live learning sessions use Zoom, a video conferencing system that allows teachers to meet with students for live instruction. These live class sessions support course material and foster a sense of community, allowing for teacher and peer collaboration. While we highly encourage students to attend these live learning sessions, these are not mandatory. Attending these sessions do not impact a student's attendance grade.