DOHS Verizon App Team Wins Best in State
Posted February 5, 2014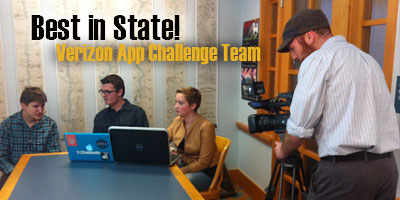 Studying? There's An App For That!
Have you ever wondered what goes into designing an app on your cell phone? Students at Denver Online decided to give it a shot – and they received national recognition for their efforts in the process. To help make studying more fun, a group of Denver Online students recently developed a mobile phone app called 'Tiny Class' to help their peers study in a fun, more preferable way – on their cell phones.
WATCH THE DPS FEATURES VIDEO:
While you can't find the mobile app for download just yet, the students' outstanding effort was honored with the 'Best in State – Colorado' award at the 2014 Verizon Innovative App Challenge – a national competition motivating young people to develop the next Words With Friends or Instagram. This story showcases how students are preparing themselves for the 21st Century – as app developers, and as future business leaders.