Colorado Public Radio Article about Relationship Between Denver Online with the Career Education Center
Posted June 5, 2014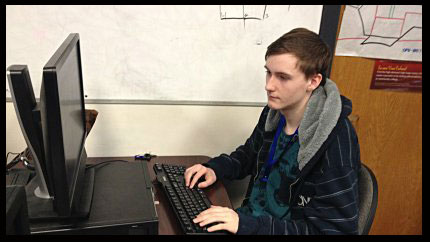 By Jenny Brundin, Colorado Public Radio, Jun 5, 2014
Photo Credit: Jenny Brundin, CPR
When regular high school fails, some Colorado students turn to career and technical schools
Every day, thousands of Colorado students sit in class and, for many, the teacher's words fly by and grades drop. Some of these students turn to a rapidly-growing alternative: high schools devoted to career and technical education, or CTE.

CTE includes everything from automotive and culinary to welding and engineering.

These schools let students earn college credit in high school while connecting them to college training and high-demand jobs. For 18-year-old Garrett Williams, it took him awhile to discover that this mix of online education and "career and tech" existed.
'I wouldn't take in the information'
Williams remembers sitting in his ninth-grade math class at Thomas Jefferson High school.
"The teacher would be talking doing problems on the board, and it'd be like I'm watching the screen paying attention but a lot of it would just pass right by and I wouldn't take in the information," he says.

Williams could tell some kids were getting it and others weren't. "A lot of the times she [the teacher] wouldn't check that you were actually getting it," he explains. "She would just continue moving on and just assume most of the kids got it."

Williams started getting D's and F's in math and in his other classes too. Finally, he went to the counselor for help.

"They dropped one class and I never heard from them again," he recalls. "I would have been better off just sitting at home at that point."

Online school?
Williams heard about an online high school through a video gaming friend and eventually Williams got plugged into Denver Online High School.
"From the start, instantly, everything was already getting better," Williams says.

He found that online programs explained concepts more clearly than his teacher in the classroom could. The fact he could see explanations visually instead of scrambling to take notes as the teacher talked also helped.
Math instructor Gilbert Palomino works with student at the Denver Online High School. Students can call him online or get help in person.
If Williams gets stuck in math, for example, he can visit or call Gilbert Palomino, a math teacher at the Denver Online High School. This year, Palomino was named Colorado's Online and Blended Learning Teacher of the Year. The school has graduated 242 students since 2006. Students run the gamut – 40 percent are gifted, 20 percent take colleges courses, and 25 percent also take career and technical education classes.

2. a.m. calls
Palomino works in one corner of a large spacious room, housed in the CEC Middle College High School. He sits at his computer, and when students call, he answers any time. Once, a student called him at 2 a.m.
"Suddenly, I hear my computer ringing and it's: "Mr. Palomino, are you by any chance awake?" he laughs. "Luckily I was awake."

Students who call can see Palomino and the virtual whiteboard he writes on. He has a number of multimedia tools at his disposal including videos, screen capture and interactive features such as MS Movie Maker and Mac iMovie. Palomino also uses cloud applications to edit interactive features such as GoAnimate.

But for Palomino, developing a trusting relationship with each student comes first. For him, high-quality online education is revolutionizing school because it's doing something he often saw as a challenge in regular school.
"[In regular school] we're not giving opportunities to kids to develop their thinking skills or to be themselves," Palomino says. "This school gives them the opportunity to develop that skill, not just to tell them how or what to do, to give them the opportunity to think themselves. The bottom line is they own those skills."

Garrett started getting A's and B's. But after a while, he got bored being at home alone all day. Denver Online High told him about CEC Middle College, a career and technical high school with which the online school has a partnership.
Fast-growing model
Dr. Jennifer Moriarty, Williams' video game programming instructor, works with him on a problem.

Nationally, there's a surge in the career and tech model. One reason is because courses match areas where there's a high demand for jobs. Schools like CEC Middle College partner with employers and with institutions like the Colorado School of Mines or community colleges to give further training to graduates.
Statewide, there are 1,247 career and technical education programs. In Denver, more than 20 percent of students take a CTE course and officials expect that number to rise rapidly in the near future. The district recently announced $9.3 million in grants to expand the number of high schools offering CTE.

Hands-on, project-based
The way many CTE classes are structured tend to reflect skills employers want. Classes are project-based, hands-on and team-based, not just lectures and some discussion. There's freedom for students to express how they learn. And there's tons of collaboration.

"Many of my classes are collaborative," says Dr. Jennifer Moriarty, who teaches math and video game programming at the school. "Not only is that a skill that a lot of employers need in the future. I think it also helps to support learning. And I think when you have the support of your peers they can explain things in words that you might be able to understand a little bit more a little bit more in depth than when your teacher explains it. And also that act of having to explain something really reinforces the learning that they've had."

Better chance of graduating and paying for college
Middle or early colleges are also being touted as a way to reduce the skyrocketing costs of college. Garrett Williams will earn college credit for courses he takes this summer. And the chances he'll graduate are much higher than if he'd stayed in a regular high school.

If you look at a map of Denver in zip codes where high numbers of students aren't on track to graduate, if a student takes one CTE course, graduation rates jump up to 21 percentage points, according to Denver school officials. For students who take three or more CTE courses, the chances of graduating increase 41 points compared to a non-CTE student.

Williams has already started two fledgling businesses. One recreates movie scenes online using Legos. He also just won a contest that provides him weekly meetings with business experts to advise him on the Lego film business.

"I think that my goal would be to have at least one successful business if not more so that I don't have to ever have the experience where you go to a job and you know you have bad co-workers and a boss or something telling you what to do and you're constantly worried about it," he says. "I'd like to have my own free schedule you know, have more control."

And having freedom and control wasn't something Williams could find in his regular high school, but he's found it now.