9 News Story: Roller Derby alter ego helps teen battle bullies
Posted July 8, 2014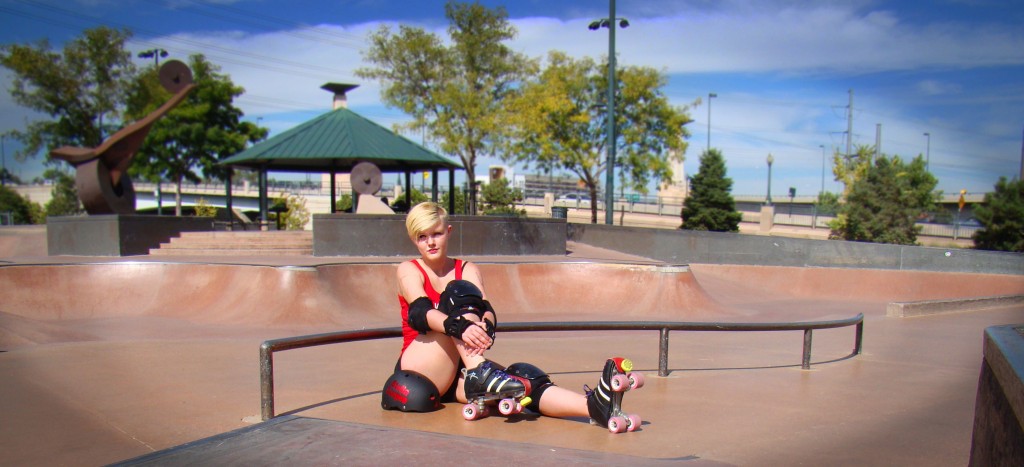 Story Credit: Kelly Sommariva, KUSA
DENVER – No matter how tough Algebra, English or Chemistry become, at school, there are no knee pads.
There are no helmets to stop the sticks and stones thrown in high school hallways.
"I got behind a lot because I was so worried about everybody else," said Shelby Bacon, a 15-year-old Denver Online High School sophomore.
Real bumps and bruises (she has a lot on her legs right now, she jokes), somehow feel better than those words that aren't supposed to hurt you.
"It's pretty bad. You don't go [to class], then you don't get a lot of your work done," Bacon said.
Yet a sophomore of few words found a secret weapon – surrounded by girls with names like Carnage and Bubblevicious.
"She had a lot of problems with bullying before at school. And she really felt bad about herself," her mom Amanda Bacon said.
Roller Derby is tough. But what hit harder for Shelby Bacon was high school.
" It's just a group of women that empower each other. Give each other strength," Amanda said.
The girl who comes to practice isn't Shelby, though.
The young woman who shows up wearing bold lipstick, the teen who hip checks while on roller skates, that's Stella Corpse.
Her Roller Derby alter ego.
"Everybody goes by their derby names here. Half of the girls I don't even know their real names. I just know them by their derby names," Amanda joked.
Shelby plays for the Rocky Mountain RollerPunks, the junior team for the Rocky Mountain Roller Girls.
She's been playing since she was in seventh grade.
"When I first got there, I was like, 'I don't know if I like this,' then the next practice I came, and I was like, 'Oh, I love it so much!" Shelby said.
The quiet teen turns tough competitor when she hits the track.
"I just kinda really like it," she smiled softly.
"It empowers her. It's really helped with her self-confidence her self-esteem," Amanda said.
A good fighter has to be strong.
"It's given her the strength to say, 'Hey, it's not ok. I don't like the way you're treating me and I'm not going to let you treat me this way,'" Amanda said.
A good fighter needs the right people in her corner to succeed.
"I just have a really great team. They're my second family," Shelby/Stella said.
For more information on Denver Online High School, part of Denver Public Schools, visit http://online.dpsk12.org/
To learn about the Rocky Mountain Rollergirls, visit http://rockymountainrollergirls.com
(KUSA-TV 2014 Multimedia Holdings Corporation)
**See her student highlight story done by Denver Online High School here