Educators Come to Colorado for Innovation
Posted February 23, 2017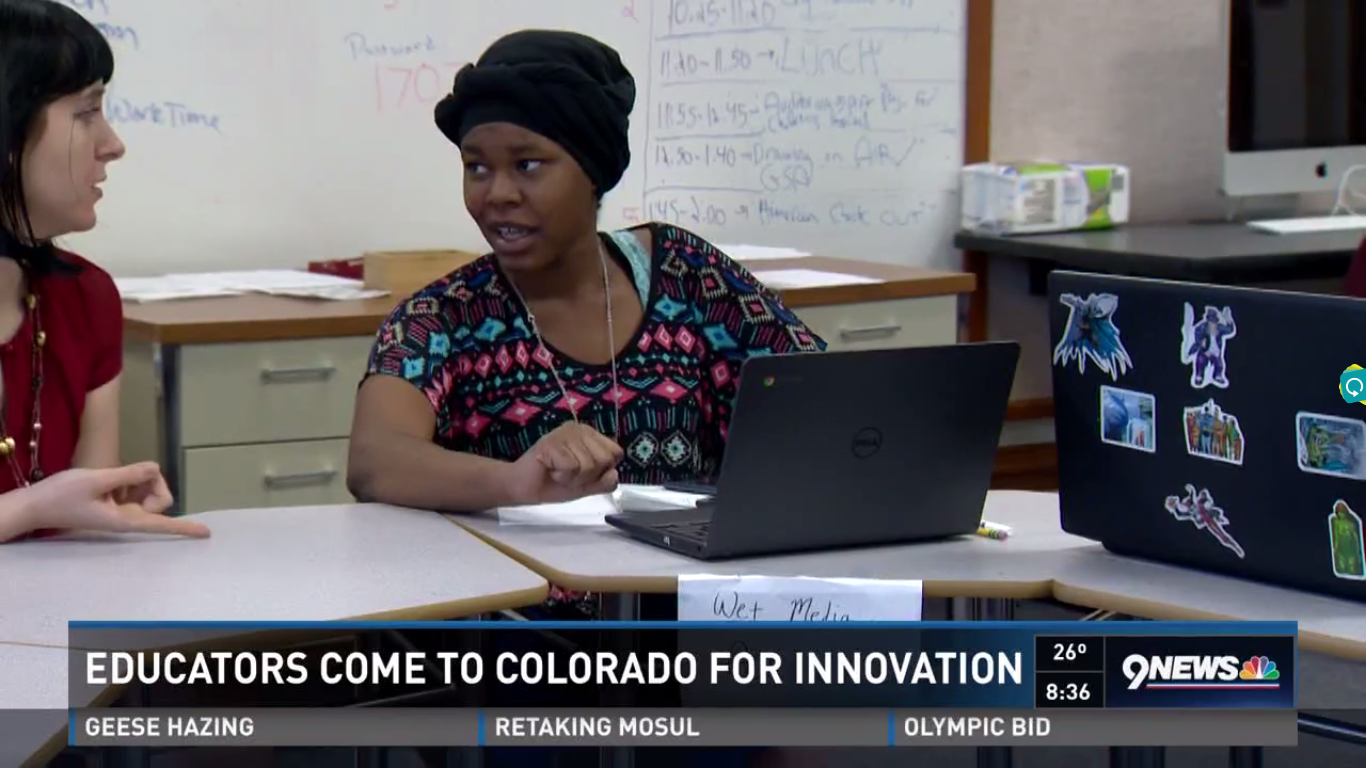 Original article on 9News, Reporter: Byron Reed, KUSA
Date Published: February 23rd, 2017
DENVER – When we think of a traditional art class with smocks and paintbrushes, thinking outside of the box can be helpful.
Denver Online High School Art teacher Elisa Narizhanaya did just that.
She created unique online art classes which gives her more time for her students.
"They will submit their work, I give them really detailed descriptive feedback I tell them what they did well and what they need to improve," Narizhanaya said. "It gives me a lot more time to look and reflect on their work as opposed to that on the spot kind of feedback."
Feedback that students like Veronica Griego prefer.
"I feel like it gives her more one-on-one time with each students so I feel like it's better," she said.
Narizhanaya uses personalized and blended learning to teach art classes for Denver Online High School. She teaches to students who may want to work at their own pace or don't do well in a traditional classroom setting. It's a concept that works well for senior Monique Flakes.
"I had a part-time job and also I had to babysit a lot," Flakes said. "It's a good thing that I can take online courses so that I'm at home but also doing my work at the same time."
"They don't have that intimidation of being judged by other people around them." Narizhanaya said.
She will be presenting this learning technique at the Colorado Blended Learning and Online Conference being held here in Golden, hosted by the iLearn Collaborative.
"It's for educators offering them exposure to what is happening in education," said iLearn Collaborative founder and CEO Judy Perez. "
Exposure to innovative initiatives like Colorado Empowered Learning, a new state initiative with funding from House Bill 16-2222 to provide accessible, affordable, high-quality professional development to school districts and staff.
"As we keep up with technology, we're really trying to run to catch up to where the students are and where we should be at in innovation." Perez said. "This conference gives an opportunity to just offer a wide range of the spectrum and have educators learn."
Opportunities that give flexibility to students to where and how fast they learn.
"It challenges you to do your own work, the teachers not always there, you actually have to do it and be organized too," Flakes said.
An effort to think outside of the box and put a little more innovation in classrooms like Narizhanaya's across the state.
"It's kind of like having a one-on-one art tutor, except virtual," Narizhanaya said.
"The students are hungry for this so the trend is that they're already there but in the classroom they're not getting what they should be receiving," Perez said.
Colorado Empowered Learning or CEL districts include:
Academy School District 20
Delta County School District 50J
Estes Park District R-3
Garfield County School District 16
Jeffco Public Schools
Lewis-Palmer School District
Peyton School District
Poudre Valley School District
St. Vrain Valley School District
Weld School District RE-1
Weldon Valley School District
Click here for more information. 2017 Colorado Blended and Online Learning (CBOL) Conference