Upcoming Events and Opportunities at Girls Inc.!
Mental Wellness Workshop, Wednesday, February 23rd, 5:30pm-6:30pm
This week's mental wellness workshop with Colorado Spirit is about connecting with and understanding yourself. RSVP here to get the Zoom link to join!
Career Workshop: Flipping the Script, Thursday, February 24th, 5:30pm-7pm
Learn how to navigate challenging workplace situations and stand up for yourself and your rights in situations including harassment or discrimination at work.Join here
Meeting ID: 826 4827 1221
Passcode: 777702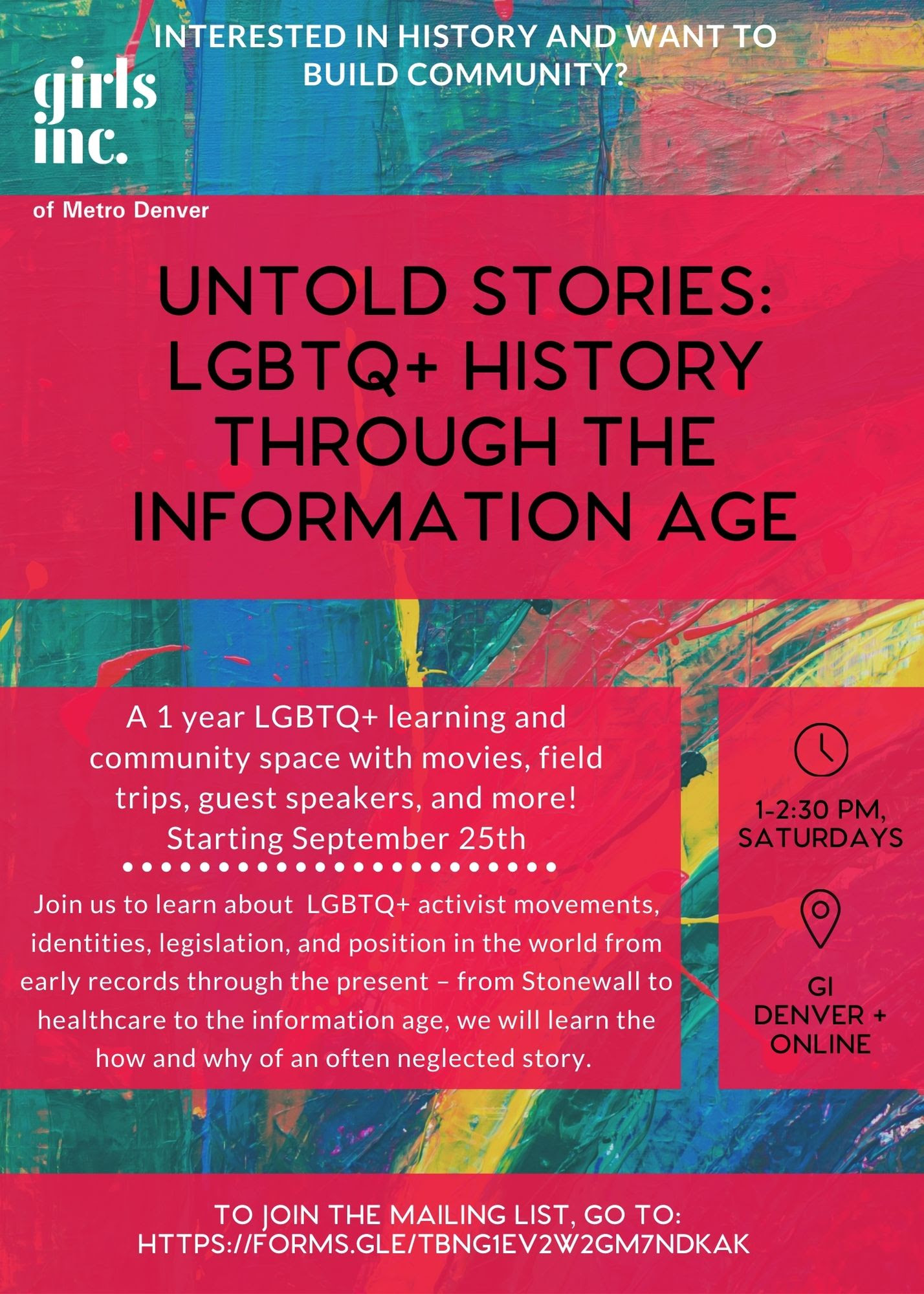 Untold Stories Art Contest: Save the date for March 19th, 1pm-2:30pm!
The Untold Stories LGBTQIA+ history and learning group is kicking things back off with an art contest! All are welcome, not just folks who identify as part of the LGBTQIA+ community. Given the two prompt options below, re-use an old book to tell a new story in whatever way you feel is best. The final product can range from art, blackout poetry, creating spatial elements, using visual language, the list goes on!Choose one of two prompts for your book art:Celebrate the life of an LGBTQIA+ BIPOC activist.This would require some research What does being LGBTQIA+ mean to you?This would focus on a more personal story Your book art will be displayed in our Girls Inc. Gallery on March 19th for scoring and awesome prizes like $200 Target gift cards or tablets! Here are some images for inspiration!
Email Sarah with questions about this contest or Untold Stories in general.
College, Career and Community Events and Opportunities
Girls Inc.'s Bold Beans coffee shop is hiring! Are you over 16 with a 3.0 GPA or higher in high school, or in college? Are you available during daytime hours, especially Monday, Wednesday or Friday? Apply to work with us! Application and job description downloadable here.
Young Aspiring Americans for Social and Political Activism (YAASPA) is hosting a Black Mental Health and Wellness Summit event for youth of any age on February 19th at 11am. Learn more and RSVP here.
High school seniors and current college students studying or planning to study law, Law School – Yes We Can has a great mentoring program to support your journey to law school and future career in law. Applications due March 4th, learn more and apply here.
Gary Community Ventures Piton Fellowship applications are open now for their summer youth fellowship for 14-20 year olds in the Denver Metro area who want to participate in an accelerated learning program around leadership and community change this summer, June 20th-July 29th. Participants who complete the program earn a $2,100 stipend. Applications are due February 25th, learn more and apply here.
The Colorado Council of Black Nurses Scholarship applications are open now for $50-$1,000 scholarships for Colorado high school and college students currently studying or planning to study nursing. Application deadline is July 1st, learn more and apply here.
The Consumers United Association Darrell Mann Scholarship is open from now until March 31st for teens and adults. Learn more and apply here.
United States Institute of Peace National Essay Contest is open and due April 4th. Winner gets $2,500 cash, a trip to Washington, DC and a scholarship for a Semester at Sea in college. Learn more and apply here.
High School Summer Internship Applications Open Now!
High school folks (current 8th graders through current 12th graders), consider joining us this summer to have fun, learn new career skills, and earn a stipend as a High School Summer Intern!
Check out all the details and apply online here, applications due April 18th at 5pm. Questions? Contact Leah at lmartin-schmidt@gidenver.org
Leadership Out Loud Applications Open Now!
Current 8th, 9th, and 10th graders, you can apply to be part of our Leadership out Loud 3-year program that's all about social justice and changing the world! The fun and learning starts with a summer camp, and continues with paid internships and a trip to Washington, D.C. over the course of the program. Learn more and apply here, applications are due March 25th. Visit our website for a Google calendar of events, which includes details about each event, and información en español.