CSM and Career Strategies for High Performance, Summer Program: Application DUE May 22
Posted May 11, 2022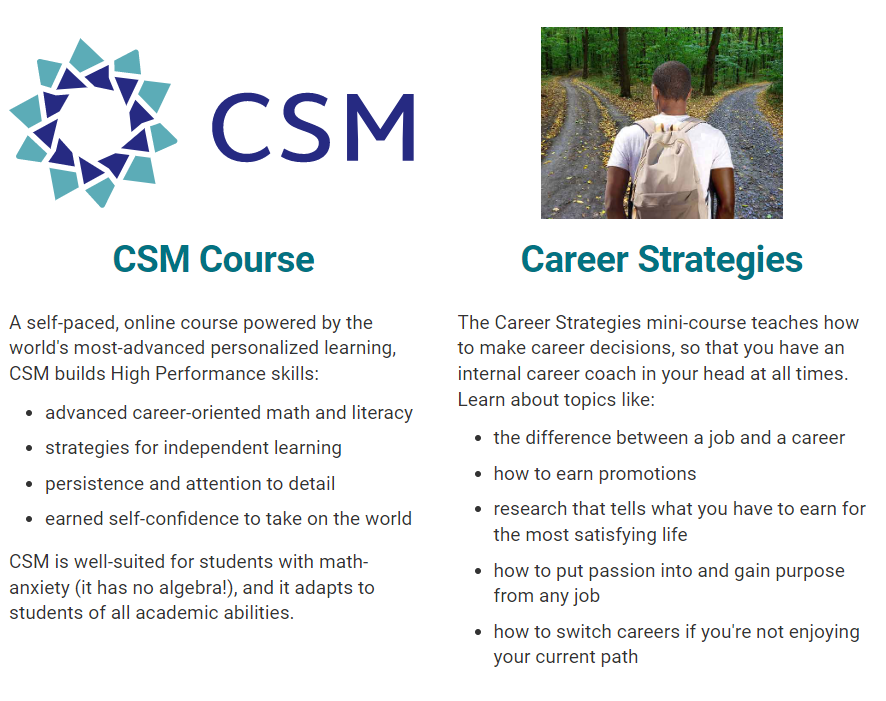 Hi, I'm David Goldberg, CEO of Boulder-based national nonprofit SeeMore Impact Labs. Through a grant from the Cielo Foundation, we're running the free, online See More Opportunity Summer Program for Denver students and are currently accepting student applications. The program includes:
· the next-generation online CSM Course for High Performance that:
o includes both academic (professional math and literacy), meta-cognitive (learning strategies and mindsets), and social-emotional (persistence, attention to detail, intention to excel, and self-efficacy) instruction
o is the only adaptive learning to operate simultaneously in the academic, learning, behavioral and affective domains
o had the highest math and literacy outcomes in a national evaluation of educational technology, ahead of ALEKS (McGraw-Hill) and MyFoundationsLab (Pearson)
· the unique Career Strategies course that builds an internal career coach by teaching lifelong career decision-making as a skill
· a personal coach, who will be a Denver-area secondary teacher or counselor
· college and career events introducing students to representatives from 4-year colleges, 2-year colleges (both credit and vocational/certificate programs), underrepresented college students, apprenticeship programs, and more.
· college credit: the CSM Course gains credit at colleges (often key math credit) with nearly 1 million students (including Western Governors University, Colorado State University-Global, Southern New Hampshire University, and more).
· a $100 completion bonus
· an "inside track" to a $10,000 postsecondary scholarship through the Cielo Foundation
The program is appropriate for students of ALL academic abilities – while it includes adaptive remediation to 5th grade math and literacy skills, the same CSM Course is used by college students and corporate managers with advanced degrees. The logic is that while everyone needs different skills, the High Performance skills addressed in the CSM course have value for everyone.
See More Opportunity Summer Program is free for all Denver-area students who are currently in 9th-12th grade (including those graduating this year) and meet loose income thresholds (much less restrictive than free and reduced lunch). Students who do not meet the income threshold can still benefit from the program, but the cost will be $100 (and no completion bonus). Students much have at least basic conversational English, and CSM will help build "academic English" skills.
The program is for 8 weeks, and students are required to commit to 50 hours (approximately 1 hour per day). Students can work on their own schedule, and if they miss a week or two to vacation, they can make it up at other times. If they don't complete CSM or Career Strategies during the 8 weeks, their registration to CSM and Career Strategies is lifelong (along with access to a coach!), and they can continue working during the school year. Students who complete CSM in less time will be given access to the CSM+ courses, which build college-level critical thinking and problem-solving skills.
For students taking the course, we are also offering CSM, Career Strategies and a coach to parents – we are very interested in family/two-generation models. The program might serve for parents alternatively as GED training, gaining college credit/aspirations, and/or building professional skills.
The application deadline is May 22 (many apologies for the late notice!), and more information and the application can be found at www.smilabs.org/special/summerdenver. You can also download a one-page PDF flyer here (English) and here (Spanish).